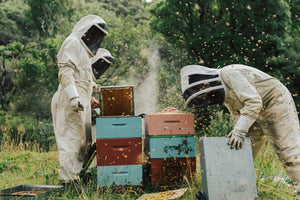 Arohanui from our whānau to yours
Lovingly harvested in New Zealand by our whānau (family) for yours
View all
Our honey is
Unpasteurised and totally raw Manuka honey
From our hives nestled on the East Cape we let nature do the work. Our honey reflects the land in which it is created – wild and pure, naturally free of pesticides.
What our customers are buzzing about
★★★★★

Excellent quality honey, and incredibly fast delivery. The Manuka Oil is the best I've ever used, and the best smelling as well.

Lisa Cooper
★★★★★

We were lucky enough to get a miere through kohanga over lockdown, first time EVER my babies have asked for spoonfuls or sandwiches. Smooth, not too sweet and just delicious

Talita Rika
★★★★★

Te Whare Aroha o Te Hūmārie Kōhanga Reo were fortunate enough to receive Rewarewa honey by the amazing Hunia whānau we were then able to koha out to all our kōhanga whānau and kaimahi.

Roberta Shaw-Hudson
★★★★★

Made with love from our hau kāinga (homelands). A rich delicious flavour packed with goodness. Our kids love it, and so do we. Ngā mihi aroha xoxoxo

Chelsea Grootveld
★★★★★

Wow yum Manuka too ,full of healing properties and full of taste ! Really happy that I brought Whenua Honey will buy again!

Letia Hauraki
Honey in kura (school)
Family Farmed Honey That Gives Back
Honey is great for our tamariki. Scientific research shows it is great for improving memory and mental alertness in the classroom, fighting mouth infections for both the teeth, gums and as a natural remedy for runny noses and coughs.
Find out more
Meet our Whānau (Family)
Meet Laney
Meet Eugene
Meet Sol
Meet Tea
Meet Jett
Meet Kane John
Our Kōrero
Whenua Honey has been built on the back of our community, whānau, and friends.
We work closely with our Māori landowners, who continue to occupy the land of their ancestors. These unique connections and relationships are what we value the most.
Read our kōrero (story)