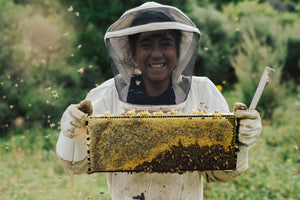 Arohanui from our Whānau
to Yours
"Te poipoi i to tatou iwi, to tatou reo, to tatou tikanga ma te whakarato oranga ki te ao ma te manuka rongoa"
"Nurturing our people, language and culture by providing wellness to the world through Manuka Rongoa (medicine)"
Wild and pure, naturally free of pesticides
What makes our honey special - Is the land from which it is sourced.
We started this journey into honey because we saw an opportunity for more. Not just jobs but an opportunity for our whanau (family) our community and friends. What makes our honey special - Is the land from which it is sourced.
For years, large corporates have been utilising Māori land for the gathering of their honey and returning little to the landowners. Due to this Whenua Honey was born. Whenua means Land in Māori. Historically Māori did not own land by way of purchasing it but rather belong to the land by being born to it.
We don't preach sustainability and conservation. We simply live it.
We live completely off the grid, therefore making sustainability and conservation inherent parts of our business.
Our humble approach focuses on quality over quantity – we want to be the best, not the biggest.
Our hives are built utilising recycled native timber sourced from our local chopping board factory and friend Greg.
In the peak of the season, we drive from sunrise to sunset, with the help of family and friends. Placing our hives all over the East Cape. Then we let nature do the rest. Our honey reflects the land in which it is created – wild and pure, naturally free of pesticides.
Whenua Honey has been built on the back of our community, whānau, and friends. We work closely with our Māori landowners, who continue to occupy the land of their ancestors. These unique connections and relationships are what we value the most.
Maintaining our immunity and wellbeing is of great importance right now as we fight against the challenges of Covid 19 global pandemic, we are passionate about sharing the health benefits of Mānuka rongoa (medicine) with the world.
Are you ready to join our tribe of Mānuka Warriors and take a journey into health and wellbeing?
See what our customers say
★★★★★

Excellent quality honey, and incredibly fast delivery. The Manuka Oil is the best I've ever used, and the best smelling as well. Highly recommend Whenua Honey.

Lisa Cooper
★★★★★

We were lucky enough to get a miere through kohanga over lockdown x first time EVER my babies have asked for spoonfuls or sandwiches. Smooth, not too sweet and just delicious

Talita Rika
★★★★★

Amazing tasting Honey & Exceptional customer services...Well Done Team, we will be back!

Sue Gav N Lukah
★★★★★

Te Whare Aroha o Te Hūmārie Kōhanga Reo were fortunate enough to receive Rewarewa honey by the amazing Hunia whānau we were then able to koha out to all our kōhanga whānau and kaimahi.

Roberta Shaw-Hudson
★★★★★

Made with love from our hau kāinga (homelands). A rich delicious flavour packed with goodness. Our kids love it, and so do we. Ngā mihi aroha xoxoxo

Chelsea Grootveld
HONEY IN KURA (SCHOOL)
'Naku te rourou nau te rourou ka ora ai te iwi' With your basket and my basket the people will live
With every jar of Whenua Honey proceeds from the online sales profits are put back into our community.
Find out more